Swimming pool and hot tub chemicals
Portland Pool Products produce a complete range of high quality swimming pool water treatment chemicals and products.
Not all swimming pool chemicals are the same! Portland Pool Products' chemicals and water treatment products have been selected and carefully graded to ensure optimum performance and best value for money for our customers by some of the country's most experienced pool engineers and service technicians. People with decades of experience servicing and treating pools and know exactly what makes a great value treatment product; and what doesn't! Our products are not the cheapest on the market.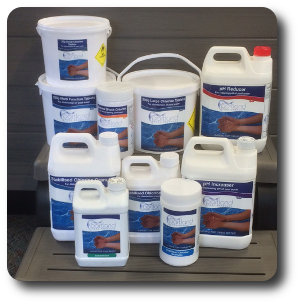 However, they are the best value; and manufactured and packed right here in the UK. Our granular products are graded for even granule size and rapid dissolution, so you don't get large undissolved chunks which can stain liners or damage tile grout, and cause a potential hazard to the feet of swimmers. They also have a low dust content, so that you're not exposed to a harmful dust cloud when you pour it out, and to prevent a potentially expensive purchase blowing away. And if a product says it has an active ingredient concentration of 55%, then the active ingredient content is 55%. We don't pack the product out with inert fillers so we can sell it cheaper.
Our tablets are formulated and pressed to ensure even erosion to maximise their operational lifespan and an even and consistent feed of dissolved chemical into the water. They don't crumble away within hours of being placed in your skimmer or dispenser, giving a huge slug of chemical into your pool water for a couple of hours, and then no protection for days after. Our liquids are formulated at concentrations which make them effective, go a long way, and give you great value. They're not watered down so that we can sell them cheaply. The Portland Pool Products range is packaged with easy to identify colour-coded labelling and include the following products.

Sanitiser Granules
Easy dissolving granules to keep your pool hygienically safe and clean.
S
anitiser Tablets
For the slow release of sanitising chemical consistently over a controlled period.
Multi-Function Products
Giving you greater value for money by combining two or more chemical treatments into one, easy to use product.
Oxidisers
Also known as 'Shock' treatments, these burn out organic materials that the sanitiser is not able to deal with, as well as deal with any micro-organisms that may have developed a resistance to the sanitiser at its normal levels.
Water Balance Products
Allow you to control and maintain pH, alkalinity and hardness easily and conveniently.
Algaecides
For the control and destruction of algae in pool water.
Clarifiers
To aid in the maintenance of crystal clear, sparkling water.
Speciality Chemicals
For seasonal use, or for specific issues encountered from time to time. The safety and health of your family and friends is the highest priority. Make sure you trust the safety and hygiene of your pool treatment to one of the country's most trusted names.