Love it or hate it, swimming pools need to be kept clean. We have some customers who relish the challenge of keeping their pools in perfect condition and see the task as a change from their daily routine and part of their weekend 'hobby'.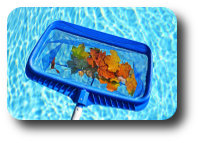 We have others who find the whole exercise relaxing and even 'therapeutic'.
Unfortunately, there are many people who see it as just a chore or do not have the necessary time to spare. Pool cleaning requires time and patience.If you are short of either of these you may be interested in our Pool Valeting Service.
Our Pool Valeting Service provides crucial regular pool maintenance for your swimming pool when you don't have the time, the resources or the inclination to do it yourself. Valeting is normally carried out fortnightly and during his visit our engineer will carry out the following:-
Vacuum pool floor
Brush walls as necessary
Backwash sand filter
Empty strainer baskets
Test and balance pool water
Check operation of pool equipment and report on any problems
This is a general list of the tasks we carry out during a standard valeting visit. But it is by no means exhaustive as we often tailor our service to meet a customer's specific requirements. If you would like to know more about our valeting service and the costs involved, please fill out the form on this page giving as many details as possible and we will send you full details.
Pool Valeting Enquiry Form